Artist Statement: FARMERMU ....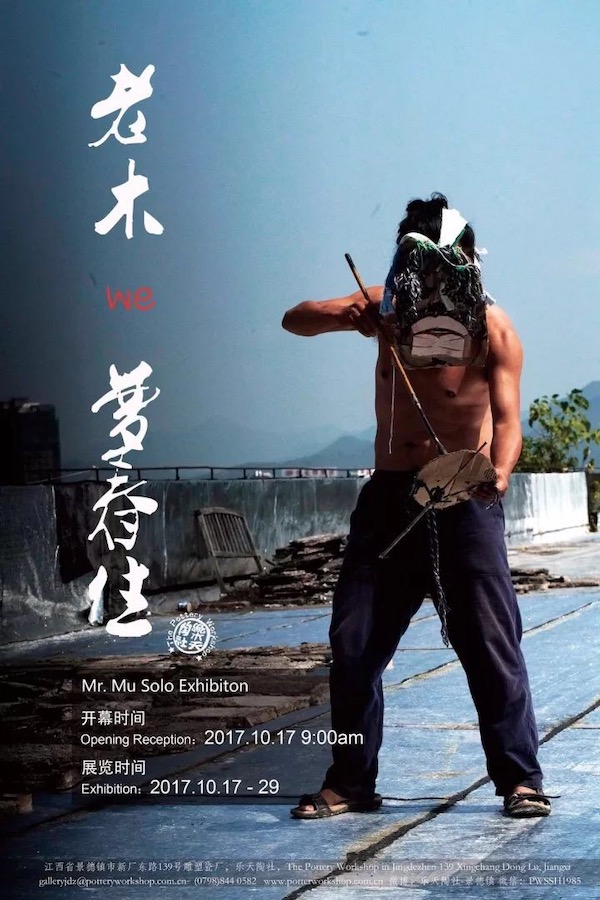 Artistic points of departure.
01 Wandering in Absolute Freedom....daily life
02 External Things.... boundaries of the "self"
03 Ways of the human World...Existential space
04 A strained mind...The hidden dimension of culture
05 Break Open the Boxes...The power of weakness
Concept:
The THEORY of Chinese medicine draws from an understanding of the human as a microcosm of the outside world - the world and the human are comprised of the five elements of water, wind, earth, fire and wood, with any disharmony bringing about disease. My paintings are composed of five parts; five elements if you like, yet while Taoist thought emphasizes harmony and balance, my paintings are a deliberate composition of chaos and disorder. My images pull from five elements that theoretically should not come together. In combining the traditions of Chinese ink painting and Naxi Dongba hieroglyphics along with the influences of pop art, abstract expressionism and grafitti, I force a deliberate postmodern "crash" mirroring my two faces, which are in constant battle to examine the boundaries of self. In modern life many of us have lost the balance between the five original elements and through painting can recognize the imbalance and reclaim it as a consequence.
Life as Daily Practice:
The inspiration for these elemental paintings comes from my diary.
Wandering in absolute freedom I sketch my daily life drawing with simple materials and producing minimalist sketches. I capture my daily existence and experiences like a book of Japanese Haikus.
I use the world as my studio, traveling continuously as a reaction to my Chinese identity. In Buddhist tradition monks roam around the country on their spiritual journeys. Red Dust refers to the image that they leave in their trail yet as an atheist and aesthetic Chinese I never had the chance to experience this. Growing up in a country with harsh travel restrictions and where creativity was condemned, made me want the world even more. Therefore I left both as a reaction against this and ironically as a means of understanding my home from a distance.
My need to understand my home...
Growing up in Lining, in the Chinese province of Yunnan, I always felt like the outsider being half Han and half Naxi. The Naxi culture is completely different than the Han majority with its own language, customs and traditions, yet I never felt truly comfortable with this dual identity. The art community was where I felt truly comfortable in my skin, offering a refuge. Feeling like a foreigner in my own country, I had to leave to understand it from outside where I had always been.
"Pig City" as Inspiration: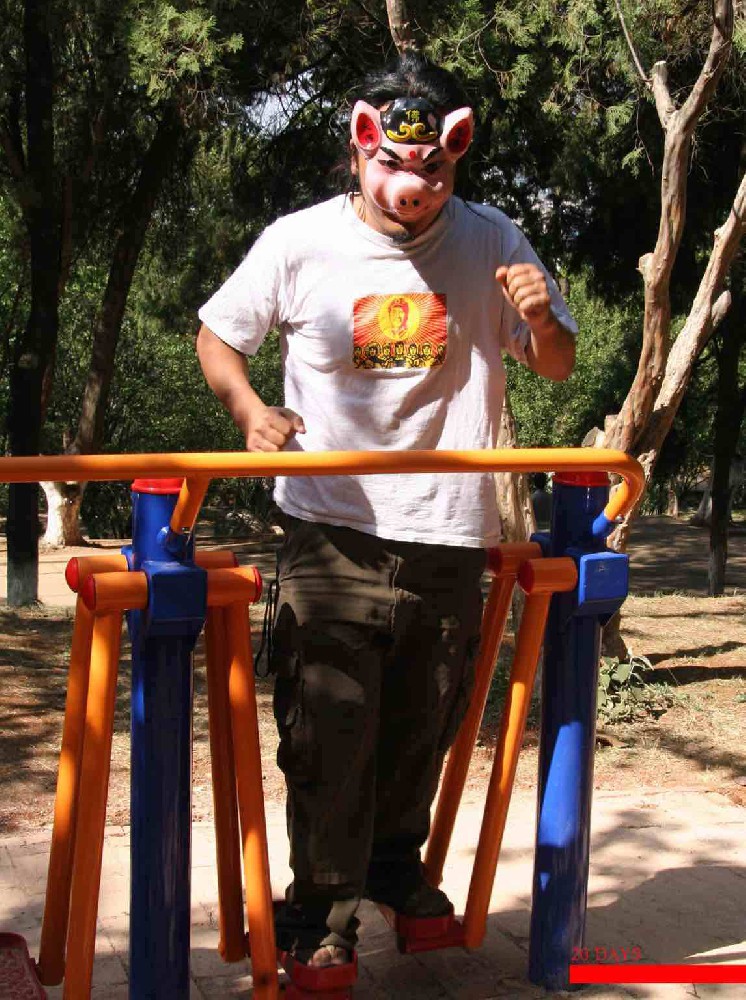 A large part of my life has been spent living in cities, with the belief that the

City is like a pig, with its beauty stemming from the cooperation of many different parts and organs. I also believe that artistic language is more than a form in which an artist can express himself/herself. Ordinary people can use this as a means of communication whereby art can be a force for social change. It is this idea that became the inspiration for the first 20 day projects which began in Kunming China and after Oslo Norway. Both professional artists and the general public took part in an amalgamation of multi-media and interactive performances and events occurring in public spaces over the twenty-day period, with an emphasis on spontaneity.
Past Projects:
This expression of the ways of the human world also came about in my project 100 minutes. Based in Kunming the 100 Minute Festival called on the general and professional public to act individually as director and editor to create one-minute films. The end result combined them all to form one unique film, then shown at a local art gallery.
Lijiang China Project:
In the summer of 2003, Lijiang was host to an international art seminar/workshop attracting famous artists from the States and Europe. I was the only Naxi to take part in the workshop and was surprised at the lack of interaction between the international and local artists. As a statement about this situation I organized a performance piece for the last day of the seminar. Using forty mirrors and Chinese firecrackers, the international artists came up in pairs and took turns drawing each other, with the exploding firecrackers acting as an unconventional medium other than paints or ink. Finally the international artists took part in a performance piece that two hundred locals watched and were entertained by. Again art, artist and audience came together in an immediate fashion.
In the last twenty years the Chinese government has redeveloped half of Lijiang favoring communist style buildings instead of the original Naxi style. While the centre of the old Naxi town has retained its original architecture, this redevelopment will continue into the future. In this instance, I utilized performance art to comment on the current situation there. I placed a huge block of ice, layered with durable Naxi rice paper, on the back of a old tricycle. I cycled from morning to evening around the old and new parts of Lijiang asking for contributions, sketches, paintings or whatever else anyone wanted to contribute.
While the ice in itself clearly represented impermanence and simultaneously a sense of permanence in the freezing in time of the material. A sustained permanence of the art and history of Lijiang emerged out of this melting object.
In effect it is the innumerable configurations of these five elements of artistic departure that offer me consistent insight into both my inner and outer world.
Personal Philosophy:
Farmer Mu gets off on daily life. He sees the usual separation between work and play as unhealthy. He does his thinking when drinking with friends. He says he can draw and have sex simultaneously.
Farmer Mu's work happens, as he says, 'in the moment'. The work in this small book was executed quickly, in daily drawings, spontaneous ink paintings, guerilla performance pieces, a spur of the moment visit to a pig slaughtering factory.
Farmer Mu organizes performance pieces called 20 Days where he organizes a core group of people to do a new activity each day for 20 days. Each day the group goes out and engages in the surroundings, a glassy clear lake in Norway, or the city of Kunming, China. The day's work is recorded then organized that day. Over dinner, the group decides on the next day's work. These are intense, collaborative projects, yielding no predictable results. Farmer Mu aims to do 20 Days in 20 different countries.
Farmer Mu draws and paints every day, on and with any material that may be available. If he has a book on hand, he fills it up, adding commentary, thoughts, and difficult or bizarre questions to the images. The results record the questions Mu is dealing with in a particular period: the power of weakness; how can a person see themselves; greed and animal instincts; how dreams and waking life relate; regard and disregard for society; love versus sex versus friendship. Mu grafts narratives onto these questions, using his immediate environment and the plotlines of his friends personal dramas as material.